The #NAME error usually means that the ImportFromWeb add-on has not been properly associated to your spreadsheet. As a consequence, you can not enter nor run any =IMPORTFROMWEB() functions.
If you have already activated the add-on (our guide to activate ImportFromWeb can be found on this page), there are 3 ways to address this issue:
Google Sheets can have troubles to manage sessions with several accounts.
Usually the issue arises if you are connected to several Workspace accounts within the same Chrome session. It is a current configuration for people who use their professional account along with their personal accounts.
If you use Chrome or Firefox, we recommend you to create different profiles to keep your Workspace accounts separated.
Make sure each profile is connected to one Workspace account only.
With profiles, you can keep all your Chrome info separate, like bookmarks, history, passwords, and other settings.

Profiles are ideal for:

Sharing a computer with multiple people.
Keeping your different accounts, like work and personal, separate.
We are aware that this issue can be frustrating for our users.
It has been reported by hundreds of Google Workspace developers. Google has notified us that they are working on a solution.
You can find more information on how the issue affects Workspace add-ons here
In Extensions > Add-ons > Manage add-ons, unroll the options of the add-on and uncheck "Use in this document"
Reload the document
Go back to the add-ons manager and check "Use in this document" again
Go to https://myaccount.google.com/permissions and remove the add-on from the list.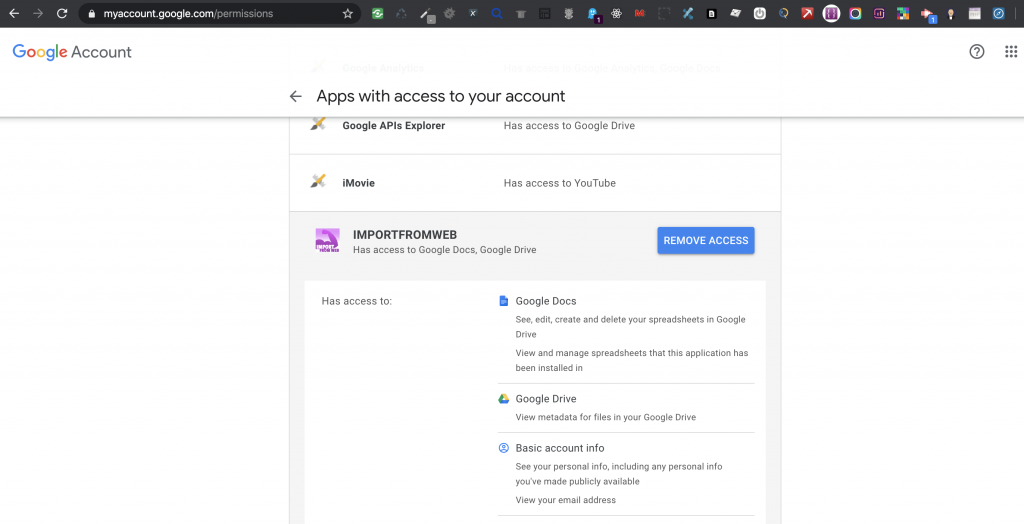 Then go to the add-on page in the Google Workspace Marketplace, click Uninstall and reinstall it again.
Don't forget to reload your spreadsheet too.
If you followed all the steps with no success, please contact us.