Gain access to competitor product information
and monitor your own
Amazon products straight in Google Sheets
It uses the ImportFromWeb add-on that we built.
ImportFromWeb provides a simple function to extract data from any websites. You just need to find the urls of the pages you want to load and tell ImportFromWeb about the location of the elements you want to extract from those pages.
That's why we've created an Amazon scraper in Google Sheets that enables you to compare product titles, images, prices, ratings, and links without any coding knowledge or complex software to download. We have configured more than 50 data points ! All you need is the ImportFromWeb add-on in Google Sheets and you're ready to start importing powerful Amazon data into our approachable template.
With this kind of product research at your constant disposal, you can improve competitor benchmarking, follow market pricing trends without having to manually update your data, and compare your product offerings against others in your space to improve your ecommerce strategies. 
And all with just a basic knowledge of Google Sheets.
Are you intrigued? Great – because we'd love to show you how to scrape Amazon data with this straightforward template.
Make a copy of the Amazon Product Comparator template
First, make a simple copy of the template to manipulate with the product data that you wish to scrape from Amazon:
Install the ImportFromWeb add-on
Then, simply, install the tool into your Google Sheets from the Google Workspace Marketplace following the step-by-step instructions indicated by the add-on.
From there, you can access the tool by clicking "Add-ons" and activating ImportFromWeb within the spreadsheet.
From there, our ImportFromWeb tool is built to use a simple function to scrape data from the website of your choosing. Normally, the user provides the tool with the locations of the data that they wish to scrape using a basic knowledge of HTML – but in this case, the template does all of the work for you without having to install Amazon product scraper software.
Input the ASINs of the products you want to compare
Click on the second tab of the template and start scraping! All you need to do is input the products ASIN numbers from Amazon into the document. 
The ASIN number is a unique identity number that appears in the Amazon product URL after /db/.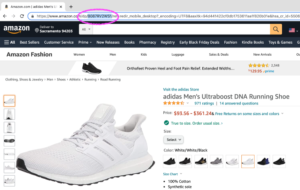 Input ASIN numbers into the 'ASINs List' column of the template and watch the scraped product information roll in. No HTML experience necessary.
And that's it! Now you have all of the information about top products from Amazon that you can use to scrape Amazon best sellers, competitor products, and latest trends to improve benchmarking and your future ecommerce strategies.
To make better use of this template and our ImportFromWeb tool, here are a few other tips to ensure that your web scraping experience is giving you full access to valuable Amazon data:
Extracting data from Amazon product pages can be incredibly rewarding, but you don't want this information to lose its value over night. Improve your Amazon trends and price monitoring by configuring your template with our advanced cache system to keep your information up to date. 
Based on your preferences, you can instruct the ImportFromWeb tool to update information as frequently as you like so that you're always scraping the most current product research from your Amazon web pages.
This is a reliable way to base your ecommerce strategies on current and relevant data rather than searching through old information.
Don't let geography limit you. With the ImportFromWeb tool, you also have the ability to query a website within different markets. 
On the second tab of the template, lines 19 and 20, you have the option of changing the domain to scrape data from Amazon based on the country of origin. Simply pick a domain off of the list and it will be applied to your template.
This is super helpful if you'd like to import local content like product descriptions or titles in specific languages. It can also enable you to monitor what product information displays in different countries, giving you insights into how to improve your own strategies in each market.
You don't need to use this template to extract Amazon products information.
It's very easy to use the IMPORTFROMWEB function wherever you like.
Here is how you can do it:
Type up to 50 urls, each one in a different cell
| | |
| --- | --- |
| A1 | https://www.amazon.es/dp/B089HJ5JXX |
| A2 | https://www.amazon.es/dp/B089HSHRH8 |
| A3 | …etc |
Type the elements you want to extract
A5
:
G5
title
rating
timesEvaluated
price
featuredImageSource
featureHeaders
Use the IMPORTFROMWEB function
| | |
| --- | --- |
| A7 | =IMPORTFROMWEB(A1:A3, A5:G5, "contractStack") |
"compare" is an option we add to force each product to stick to one row
If you feel stuck on anything at all, reach out to our team. We'd love to help you better understand our tools and templates so that you can achieve your desired results.
If you find this web scraping tool useful, feel free to share it with other Google Sheets users who could save some time scraping Amazon data. Or leave us a review on Marketplace!
And if you really like it, we'd love to hear from you! Send us an email with your thoughts and feedback.