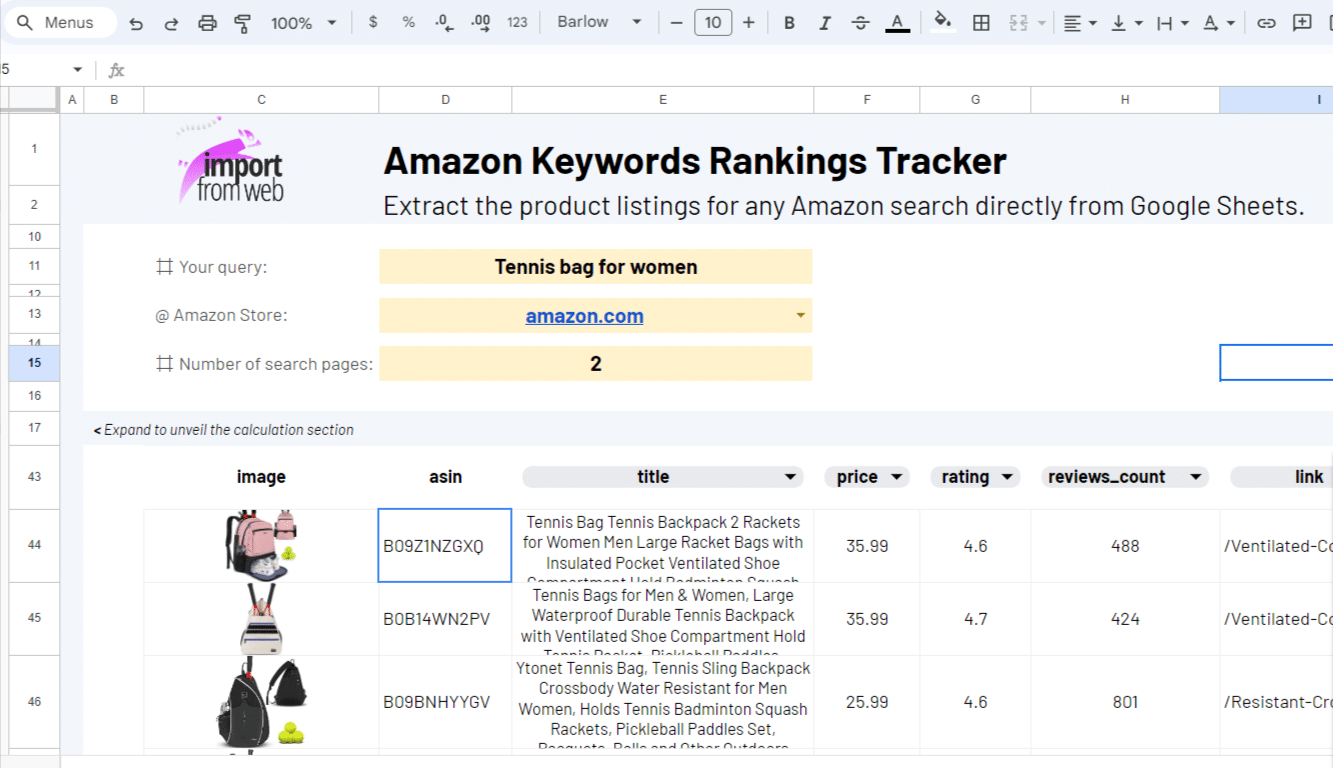 As an Amazon seller, marketer, or researcher, tracking the rankings of keywords on Amazon is essential for achieving visibility and driving sales. Amazon's vast marketplace is highly competitive, and understanding where your products stand for specific keywords can make all the difference.
If it's easy to enter a query on Amazon and manually track where your products stand, the difficulties lie in scale. When you're dealing with numerous keywords, manual tracking is not an option.
So what are the options to efficently track rankings on hundreds of keywords?
Before we explore the "how-to", let's understand the importance and the usecases around monitoring keyword rankings on Amazon:
Competitor Analysis: as an Amazon sellers, identifying competition's products that rank high reveals opportunities to optimize your listings and eventually improve your rankings.
Content Optimization: Understanding where your products rank for specific keywords helps optimize listings and enhance visibility.
Marketing Strategies: Compensate bad rankings with Ads so you ensure your best sellers remain visible.
Market Research: Researchers can glean market trends, consumer behavior, and valuable data from keyword rankings.
When it comes to monitor rankings on a set of keywords, there are 2 imperfect options:
Manual Tracking: Manually monitoring where your products rank for all relevant keywords is impossible at any scale and an inefficient use of your time.
Keyword Rank tracker Tools: Some existing tools offer keywords tracking on Amazon, but they may have limitations, such as restricted keyword lists or complex interfaces.
While manual tracking may have been a noble starting point, it's time to evolve and embrace automation. ImportFromWeb stands at the forefront of this evolution, offering a user-friendly, scalable, and efficient solution for tracking Amazon keyword rankings.
ImportFromWeb is a simple to use Google Sheets plugin that can extract any webdata into a spreadsheet. It is recognized today as one of the most efficient web scraper for Amazon live data and is used by hundreds of Amazon Agencies and Sellers worldwide.
ImportFromWeb streamlines the process of tracking keyword rankings on Amazon, as it enables to extract Amazon search results on any keywords and get the products listed in an-easy-to-read table. And this without requiring any technical skills!
The process relies on a simple google sheets function, named =IMPORTFROMWEB(). And this is how the function looks like to extract any Amazon search results page:
=IMPORTFROMWEB("Amazon Search URL", "asin,title")
And this is what you get: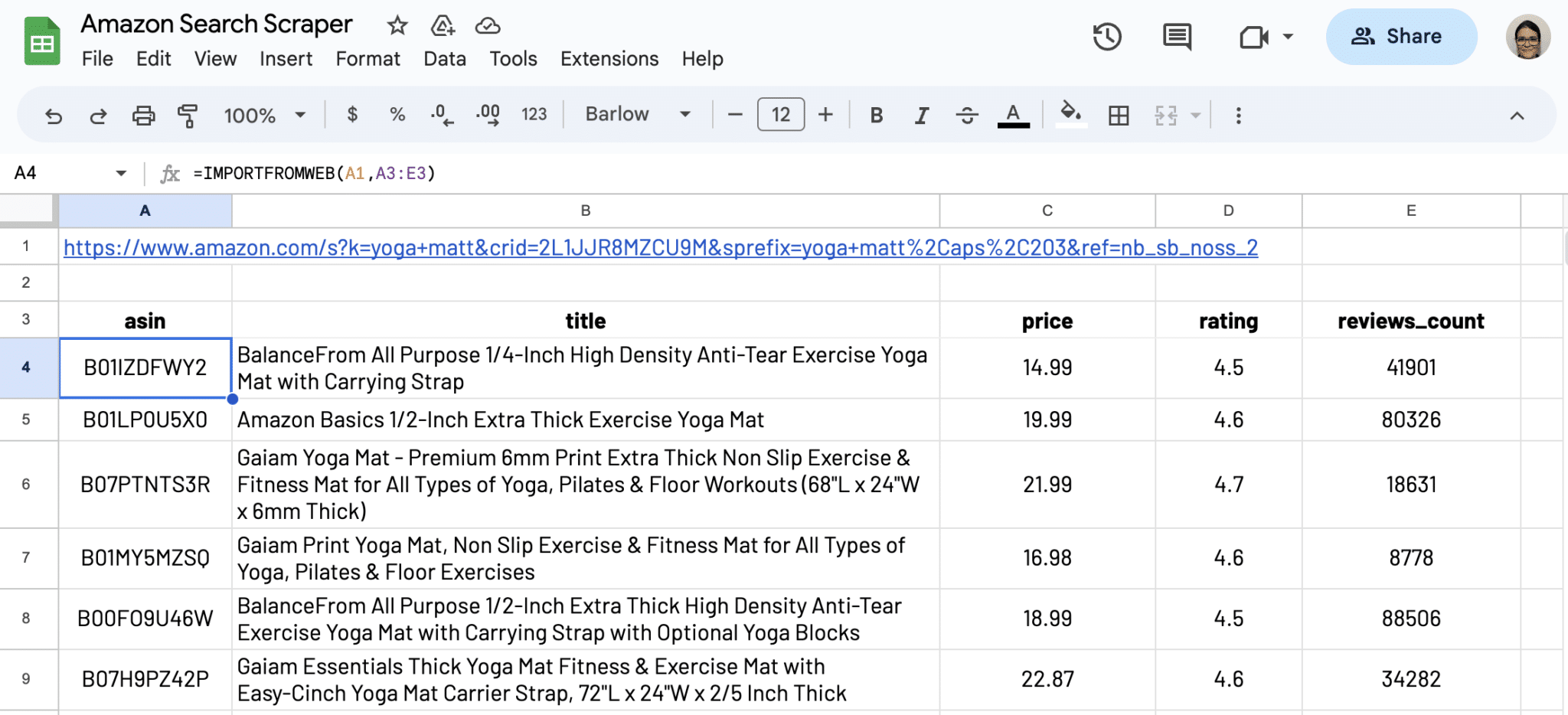 Now that you have the 20 first organic results listed, all you have to do is to track your own ASINs and conclude on your visibility and rankings on the chosen keyword.
The good thing of the tool lies in its scalability. ImportFromWeb empowers you to track keyword rankings for multiple keywords with ease.
Here's how you can use it to monitor rankings for various keywords:
Duplicate the ImportFromWeb function for each keyword you wish to track. For example, if you're monitoring rankings for "best headphones," "smartphones," and "laptop deals," simply replicate the function for each keyword.
Organize your Google Sheet to accommodate the data for different keywords. You can set up separate columns or sheets for each keyword, ensuring that your ranking data remains organized and accessible.
By repeating the ImportFromWeb function for different Amazon search URLs corresponding to each keyword, you can efficiently monitor rankings for a wide range of keywords simultaneously.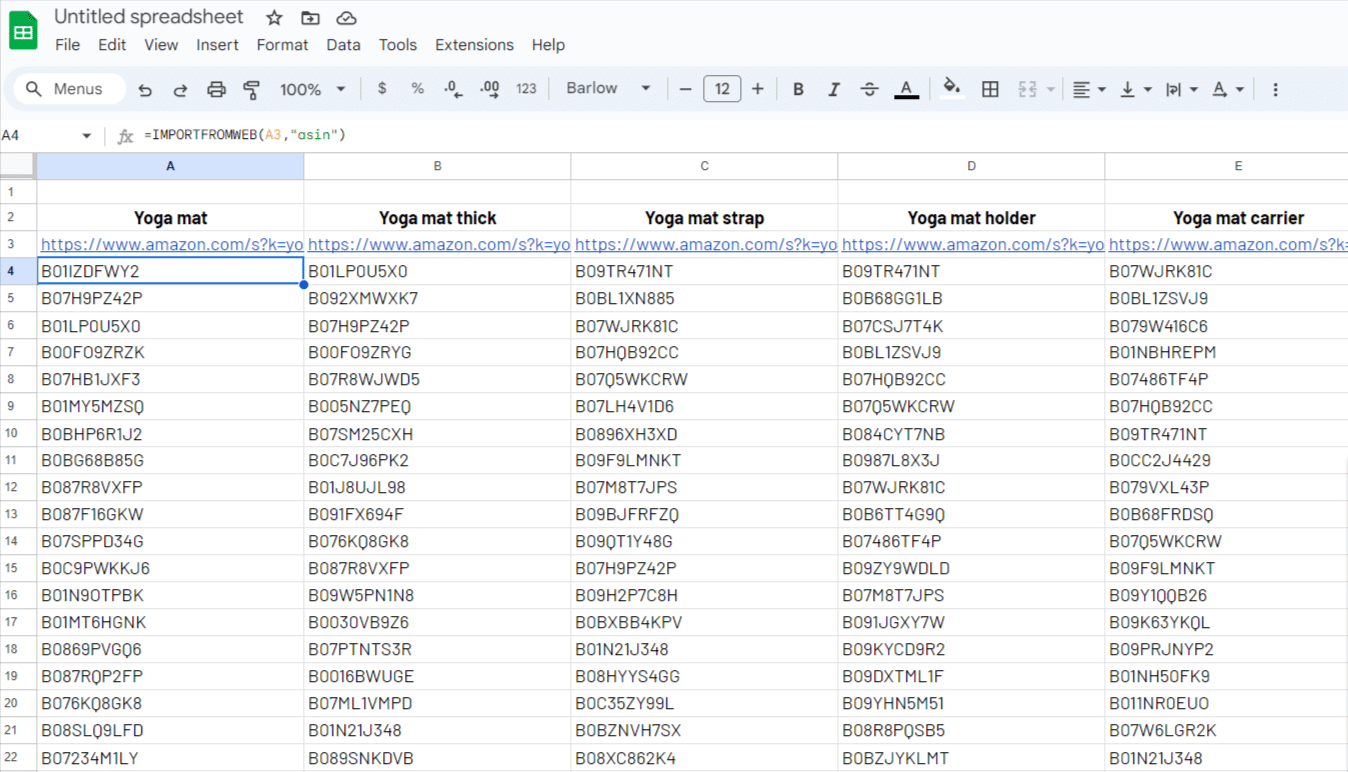 You may also want to go beyond results page #1 to track your ASINs or your competitors' ASINs. Luckily, the Amazon search url contains the page number as a parameter (https://www.amazon.com/s?k=yoga+mat&page=2). Then, all you have to do is to replicate the =IMPORTFROMWEB() function with each URL:
=IMPORTFROMWEB("A1:A5", "asin,title")
where A1:A5 contain the Amazon search URLs
With ImportFromWeb, you're accessing real-time keyword rankings directly from Amazon.
When you execute the IMPORTFROMWEB function, it fetches the latest Amazon search results, providing you with the most up-to-date products listing available at that moment.
You can re-execute the same function at any time. When you do this, ImportFromWeb refreshes the data, pulling in the most current keyword rankings from Amazon. This dynamic capability enables you to track changes over time, ensuring that you have a pulse on how your keywords are performing as the Amazon results evolve.
Whether it's daily, weekly, or monthly, regularly re-executing the IMPORTFROMWEB function allows you to monitor trends, adapt your strategies, and make data-driven decisions to improve your Amazon rankings.
In essence, ImportFromWeb transforms keyword tracking into a real-time, actionable process. It empowers you to stay ahead of the competition, optimize your listings, and respond swiftly to market dynamics by providing access to live data.
User-Friendly: ImportFromWeb is designed for ease of use, making it accessible to users with no technical expertise.
Efficient Ranking Retrieval: Quickly gather keyword rankings from Amazon search results for multiple keywords, eliminating the need for manual tracking.
Integration and Analysis: ImportFromWeb seamlessly integrates with Google Sheets, allowing you to incorporate ranking data into your analytics and decision-making processes.
Tracking Amazon keyword rankings is not just beneficial; it's a necessity in today's competitive e-commerce landscape. Manual tracking is impractical, but with ImportFromWeb, you have a fast, convenient, and efficient solution at your disposal. Start using ImportFromWeb today to stay competitive, optimize your listings, and make informed decisions based on real-time data.
To help you get started right away, we've prepared a ready-to-use Google Sheets template that incorporates ImportFromWeb, making it even easier to initiate your keyword tracking journey. Simply click on the link below to access the Amazon Search Results Scraper page that contains the template:
Note: ImportFromWeb comes with a free trial with 1.000 requests, giving you the possibility to deeply test it.