LinkedIn doesn't really let you get emails for prospects out of your network.
There is a method though. And it does not even use LinkedIn: it is based on Google Search that can return LinkedIn profiles that show their email address public.
How to do that? Simply by using the advanced search queries Google offers us. For example,
site:linkedin.com "ceo" "spain" "@gmail*" -intitle:"profiles" -inurl:"dir/"  
actually means: "Hey Google, please give me all the CEOs in Spain having a Linked profile that displays a Gmail address"
So, to help you find emails addresses from LinkedIn, we've created a Linkedin email finder in Google Sheets. It enables you to automatically collect emails from hundreds of profiles based on specific job titles or/and location without any technical skills!
All you need is the ImportFromWeb add-on in Google Sheets and you're ready to start collecting email addresses from Linkedin profiles. With this kind of tool, build your prospection file, source and reach talents or find potential partners!
Wanna test it? Great – let's follow this easy step-by-step!
ImportFromWeb is the add-on that collects the data. Simply install it from the Google Workspace Marketplace. You can try it for free, we offer you 1,000 requests (no credit card required!)
Make a simple copy of the template to manipulate it.
In your template copy, activate the add-on through your Google sheets menu: Extensions >> ImportFromWeb >> Activate add-on
From there, open the "📭 Email finder tool" tab; you're ready to start collecting email addresses from LinkedIn!
4 inputs are required:
Profiles: the profiles headline or job description you're looking for

Location: the country or city the people indicate in their profiles
LinkedIn subdomain: every single profile is attached to a subdomain that depends on their geographic location at the moment they createed the profile
Emails domains: the emails extensions you're interested in

Once done, just let the =IMPORTFROMGOOGLE() function do the job!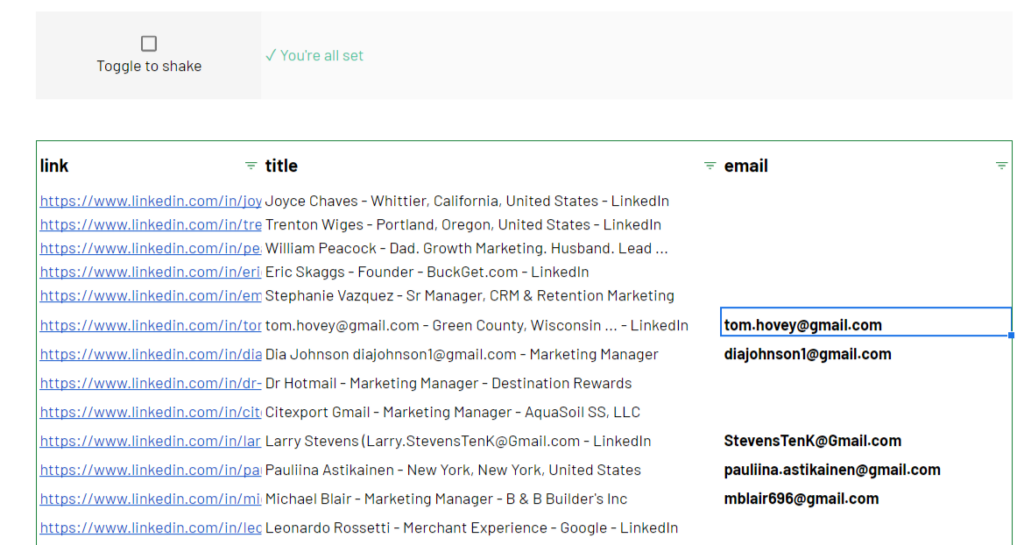 If you feel stuck on anything at all, reach out to our team. We'd love to help you better understand our tools and templates so that you can achieve your desired results.