🛒 Amazon Product Comparison
It is important to keep an eye on your competition on Amazon if you want to be at the top of the game. This tool allows you to compare any product from the main Amazon stores using only their ASIN or ISBN (Books).
Start for free! Upgrade your ImportFromWeb plan to compare a lot of products between them.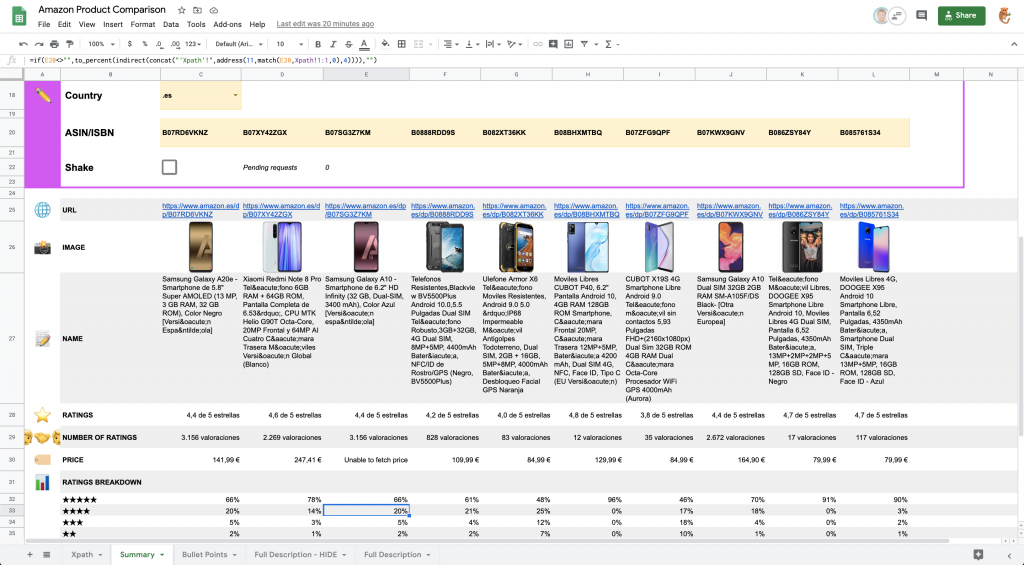 Being able to compare products from Amazon directly in Sheets can be useful for several reasons. It mainly depends on your situation.
If you are selling on Amazon, our tool can be used for several tasks of your interest. You can easily:
Benchmark your products' prices & ratings against your competitors'
Quickly spot main keywords used to optimize your own product pages
Compare the characteristics of your products with your competitors'
Our tool can also be used by individuals to compare prices between several products in a glimpse of an eye. Indeed, you can update product details, including the price, at any given time.
Copy this spreadsheet
Install IMPORTJSON and IMPORTFROMWEB
Select the country you would like to scrape the data from
Indicate up to 10 ASIN for the products you would like to compare
Wait a moment. Our system renders Amazon's webpages and uses rotating proxies to prevent it from being blocked, which can explain why you may have to wait up to 1mn.
If you see some empty fields and a number higher than 0 in B13 after a while, it means that you have pending requests whose data have not been retrieved by Google Sheets yet. Just Click on Add-ons > ImportFromWeb > Spreadsheet – Refresh pending requests
If you are interested only by the basic information, just look at the "Summary" tab. In some cases, prices can't be scrapped because they are not available on Amazon. In such a situation, the data displayed in Sheets will be "Unable to fetch price".
If you want to compare bullet points used on product pages, use the "Bullet Points" tab. You will easily understand what your competitors decided to highlight (what they think their USP is) there.
If you want to compare the characteristics of the products you decide to compare, have a look at the "Full description" tab. If a column of a product is empty, it simply means that they decided to not include a characteristic table on their product page. It happens frequently.
Should you have any issues with this template, please feel free to reach out.